Regular price
Sale price
$29.00
Unit price
per
Sale
Sold out
Description
Traditionally used as a home protection device, this vibration sensor's been reimagined for a whole new level of SMART.

It's designed to be your automatic assistant, to bring convenience back to your life.

Children's safety, elderly fall alerts, valuables security and more, the Aqara Vibration sensor can do it all.

Main Features:

● A smart device using low-consumption, low-cost ZigBee wireless protocol

● Powered by a CR2032 battery, and complies with ZigBee's HA1.2 ( home automation ) standard.

● Can interoperate with the Aqara multi-functional gateway and other smart devices

● Used to monitor the door and windows witch status, important items alarmed, also can monitor user's bed activity, help to determine the quality of sleep

● Incorporates high-precision six-axis acceleration and gyroscopes, used for collecting external vibration and motion data

● Temperature: -10 to 50 Deg.C

Installation Method:

● Effective distance validation: click the reset button on the sensor in the selected sensor installation location, it will be effective communication between device and gateway if the gateway to prompt

● Tear off sticker protective film, stick on the wall
Specifications

Model: DJT11LM

Colour: White

Weight: 13g

Size: 38 x 38 x 9mm

Connectivity: WiFi

Power source: Battery

Voltage: 220V

Wattage: 3600 kWh

Operating Temperature: -10°C-+45'C (14″F-113″F)

Support system:
● Apple Home app (iOS 10.3 or later),
● Aqara Home app (Android 5.0 or later, iOS 10.3 or later)

Warranty: 1-Year Manufacturer Singapore
Box content

● Vibration sensor x1
● Sticker x1
● Quick start guide x1
*Please note: The item needs Gateway device and Mi Home app to work.
Product Overview
Reacts to 3 actions: vibration, tilt and drop
No installation is required. Just sync it and use it.
Compatible with Apple HomeKit, Google Home, Amazon Alexa, Mi Home, IFTT and more.
View full details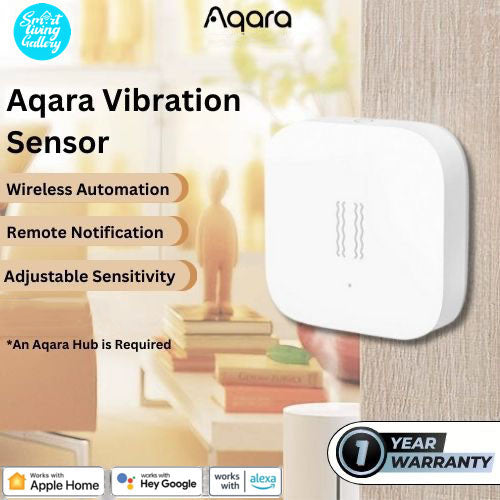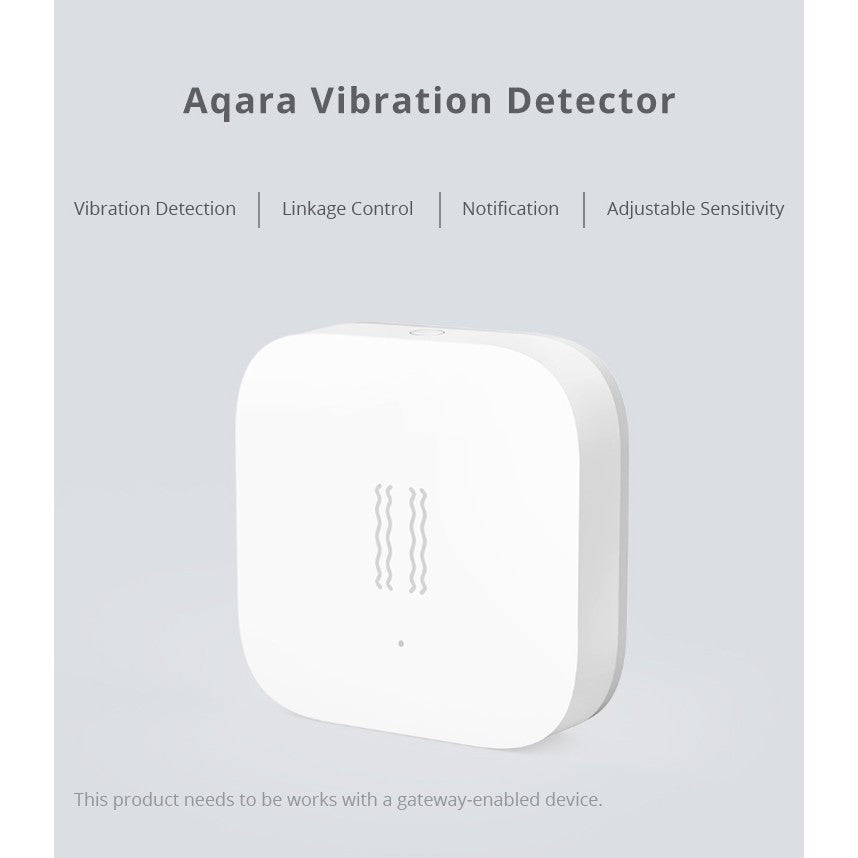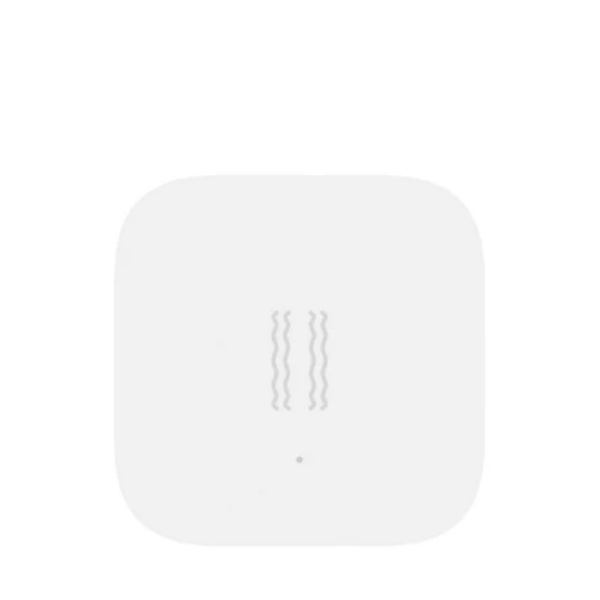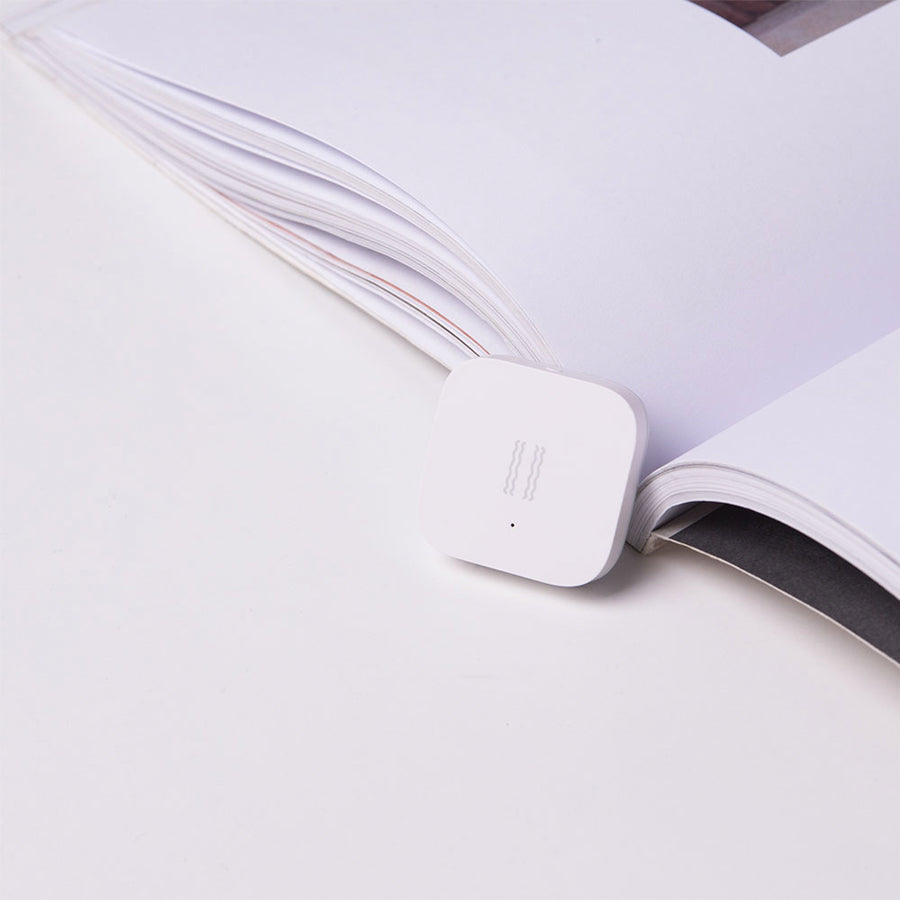 FIT IT ANYWHERE. REALLY, ANYWHERE
On/in Valuable Items

Place it on painting frames, safe doors and be alerted whenever it's moved.

Make Housework Easier

Receive notifications when your washer/dryer's done.

Turn on Lights

Stick it next to your bed so it activates the night light only when you're awake.
IT'S SO EASY TO USE
When vibration, tilt or drop is detected, Aqara Vibration Sensor will trigger the Hub to sound an alarm and send a notification to your phone.
FREQUENTLY ASKED QUESTIONS
What can the Aqara Vibration Sensor do?

The sensor can detect vibrations, tilts and drops. It can be used to send simple notifications, sound alarms or trigger automation in your home.
Can the Aqara Vibration Sensor be used independently?

No, the Aqara Vibration Sensor must work with a Hub. When a vibration, tilt or drop is detected, it will trigger the Hub to send the appropriate action. An alert notification can be sent to your phone or control other smart accessories via automation.
There are constant vibrations, but "vibration detected" event is only triggered sometimes. Why is that?

The "vibration detected" event is triggered once a minute. If the event has been triggered, then it will not be triggered for the next minute. If the vibrations persist, the event will be triggered again a minute later.
How do I adjust the sensitivity of the vibrations?

Open the Aqara app and enter the Vibration Sensor page. Click the "..."  in the top right corner, then select "Adjust vibration sensitivity". 

You can then choose the appropriate sensitivity and press OK. Finally, single press the reset button on the device to complete the set up according to the tips. If the set up fails, please retry by following the same steps.
How to change the sensor's battery?

The Aqara Vibration Sensor uses a CR2032 button battery. When changing the battery, insert a coin into the groove on the battery cover and turn it counter clockwise to release the cover. Remove the old battery and insert a new CR2032 button battery and tighten the battery cover.
How to determine if the desired location is suitable for installation?

After linking the Aqara Vibration Sensor to the Hub, single press the reset button on the Vibration Sensor at your desired location before installing. 

If you hear the Hub prompting "normal link confirmed", then the location is suitable for installation. If you do not hear a voice prompt, adjust the location of the Vibration Sensor and try again.