Regular price
Sale price
$686.00
Unit price
per
Sale
Sold out
Description
How do you feel like royalty in your own home, while impressing all your guests?

The Aqara A100 - the first smart door lock that works with your Apple products.
.
Start by unlocking the door with your iPhone, Apple Watch, or get Siri to do it.

The A100 speaks to Aqara devices and other smart accessories to turn on or perform actions based on or automated scenarios set by you.

Lights come on, fans on, windows open, air purifier on, music on, alarm off. All with your door. How amazing is it to feel like a star?

If you love a grand entrance, this is it.

Key Features :

⭐️18-Month Battery Life: The included 8 AA-type batteries will last for more than 1.5 years.

⭐️9 Unlock Methods: Fingerprint, permanent password, one-time password, periodic password, NFC, mechanical key, Aqara Home app, HomeKit / Siri, Google Assistant

⭐️Fast and Ergonomic Fingerprint Reader: A fast fingerprint reader is embedded into the handle so that your thumb will naturally touch it when opening the door.

⭐️Mechanical Key and Type-C Port: Even if the batteries run out, you can still open the lock by using a mechanical key or by charging it via the hidden Type-C port.

⭐️Google Assistant and HomeKit Support: The Door Lock A100 is designed to work with HomeKit and will also support the unlock via Google Assistant.

⭐️Zigbee 3.0* and Bluetooth Protocols: Zigbee, the most stable and reliable smart home technology, is used to support automations and cloud integrations while Bluetooth allows to connect directly to the phone.

⭐️Keypad with Away Mode Buttons: Apart from a keypad that is invisible until you touch it, the A100 has a separate Away Mode button that can be used in automations.

⭐️Stylish and Reliable Aluminum Unibody: Compared to the previous-generation Aqara door locks, the A100 has a more complete aluminum housing that does not attract fingerprints so easily.

⭐️Remotely-Configurable Passwords and Settings: Finally, the passwords and lock settings can be configured remotely via Zigbee, which allows the A100 to be used in the property rentals and hotels.

⭐️Remote Unlock via Aqara Home App: The A100 can now be opened remotely via Aqara Home app. For example, you can open the door and watch* the delivery person leaving a parcel inside.**

* Aqara Zigbee 3.0 hub is required

To purchase Aqara NFC Card for A100 smart door, please visit https://smartlivinggallery.com/products/aqara-nfc-card-for-n100
Specifications

Model: ZNMS02ES

Dimensions: 375 x 77 x 23.6mm

Door thickness: 40-80mm

Weight: 3.6kg

Connectivity: 2.4 GHz Wireless, ZigBee 3.0, Bluetooth 5.0, NFC

Power: 8 x AA (4 x main, 4 x backup)

Backup power: 5V 1A, USB-C charging port

Support system: Android 6.0 or iOS 12.0 and above

Materials: anodized aluminium, C-grade cylinder

Bolts:
1 x door bolt
3 x main lock bolts
1 x master lock bolt

Sensors:
Long-time opening
Abnormal attempt
Door unlock alert
Tamper alert

Lock modes:
Night latch knob
Away mode
Full lock lift
Electromagnetic protection
Status logs

Warranty: 1-Year Manufacturer Singapore Warranty

Box content

Aqara A100
1 x outer panel
1 x inner panel
1 x automatic lock body
1 x mechanical lock cylinder
2 x emergency keys
1 x strike plate
1 x lithium battery
1 x inner finger protection cover
1 x outer finger protection cover
USB-A to USB-C Charging Cable
Installation diagram
User manual

Product Overview
Smart and secure door lock that integrates into your home security system.
9 ways to unlock including fingerprint, passwords, remote unlocking, NFC and more for convenient access.
Works natively with Apple HomeKit, Google Assistant, and other platforms to connect to smart devices.
View full details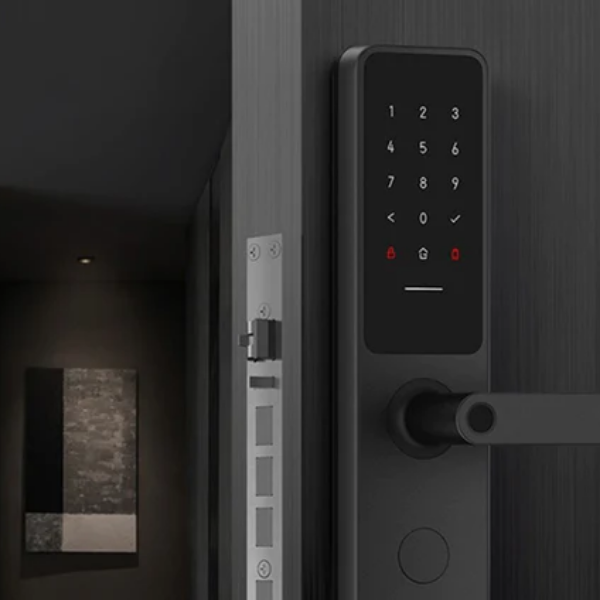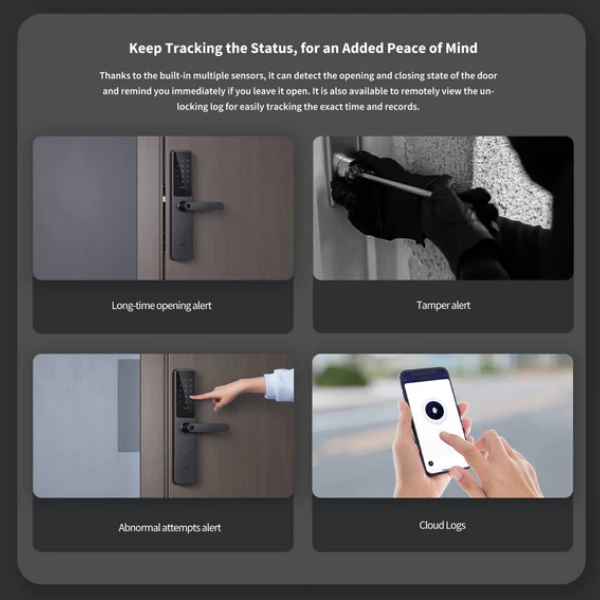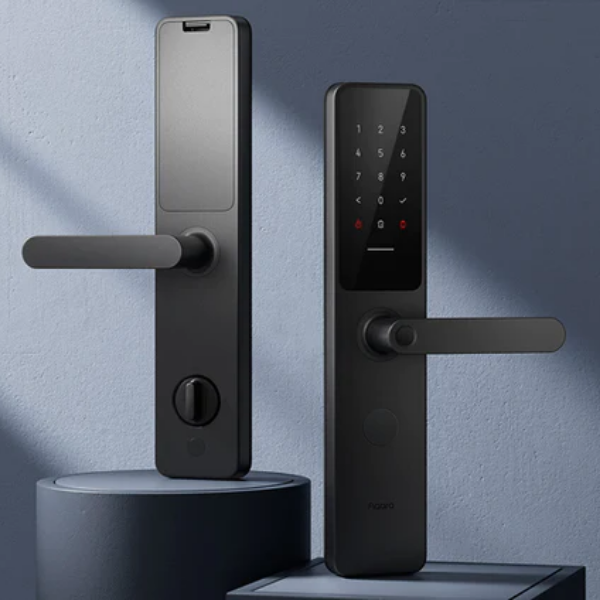 DOES MORE THAN LOCK AND UNLOCK
Frontline Security

Triggers automations to the rest of the home security system.

Tenants or Workers Access

Configure passwords for temporary access to rental property.

Track Logs and Monitor Status

Real-time status and lock/unlock notifications.
MULTIPLE WAYS
TO COME AND GO
ROBUST FEATURES TO COMPLIMENT THE MODERN LIFESTYLE
Door Status Tracking

Tracks door status and triggers when ajar for a long time, or when it senses tampering and abnormal actions.

Extra Long Battery Life

Battery saving technology for 8 x AA lasts up to 18 months. Functions and charges with backup power supply.

Syncs With Other Smart Devices

Programme automations that set scenes based on who enters the house.

Lightning Quick Fingerprint Reader

Super fast biometric identification speed and 98.6% identification rate opens the door almost instantly.

Continuous Connections

Connects with devices on ZigBee 3.0 protocol for automations and status monitoring.

Remote Configuration

Configure passwords remotely to work in a specific time and auto expires at the end.
FREQUENTLY ASKED QUESTIONS
What is the difference between Aqara A100, D100 and N100?
Does your price include installation?

Our installation charge for this door lock is $200.
Is a hub needed for the A100 to work?

Most standalone functions of the A100 can work without a hub, using Aqara Home App and Bluetooth: 

Normal lock/unlock
User administration 
Apple HomeKit and Home Keys
One-time passwords

A hub is needed for: 

Remote lock/unlock
Notifications and logs
Setting passcodes remotely
Google Home and Google Assistant integration
Automations with other devices

We have hubs that work with A100 and can help you choose the right one. 

Contact Us
Can the A100 be installed on grill gates?

A100 cannot be installed on grill gates. It can be installed on doors with thickness of 40-80mm.
How much space is needed between the door and gate?

We recommend at least 9cm of space between door and gate.
Can the handle be changed to face a door that opens on the left?

Yes. The A100 handle faces right by default. It can be changed to open from the left.
What materials are the A100 made of?

The A100 has an anodized aluminium cover, secure C-grade cylinders and multiple bolts: 1x door bolt, 3x main lock bolts, and 1x master lock bolt
Do you sell NFC cards that can be used with the A100?

Yes we do and they are $19.90 each.
Highly recommended
Really solid product from Aqara. Highly recommended. Best to use a hub with it for remote access.