Regular price
Sale price
$200.00
Unit price
per
Sale
Sold out
Description
The ultimate all-in-one smart control centre every home needs.

Aqara G3 delivers powerful home security and automation functions in one cute lil' package.

It boosts 2K recording and 1080p image capture because you love details when zooming in.

The built-in ZigBee 3.0 IR Blaster doubles up as a hub that links to all Agara sensors and devices.

That means the G3 brings all your security and home automations from its paws directly to your command.

It comes with cute kitty ears and turns off with sleepy eyes. Now if that wouldn't make you smile at the camera more :)
Specifications

Model: CH-H03

Colours: white, red, yellow, blue

Dimensions: 82.4 x 56.5 x 50.5mm

Weight: 112g

Connectivity: 2.4 GHz Wireless, ZigBee 3.0, IR control, IFTTT protocol

Video resolution: 1080p

Video frame rate: 20fps

Visual angle: 140° field of view

Rotation: 360°

Night vision distance: 8m

Encoding format: H.264

HomeKit platform
AIOT platform
Privacy shield
Mobile detection
Sound detection
Video message
2-way voice intercom
Intelligent gateway
1/4″ tripod mount
Built-in siren
Built-in microphone
Sleep mode
Cloud storage

Local storage: MicroSD card slot for up to 128GB

Port: USB-C port with video passthrough

Power: 5V 1A, USB

Support system: Android 6.0 or iOS 12.0 and above

Warranty: 1-Year Manufacturer Singapore Warranty
Box content

● Aqara G3
● USB-A to USB-C power cable
● Power adaptor
● User manual
Product Overview
Super cute, easy to use, and uber smart.
AI-powered high quality camera that doubles up as a smart home control centre.
Works with Apple HomeKit, Alexa, Google Home, Siri, Yandex Alice, IFTTT and more.
View full details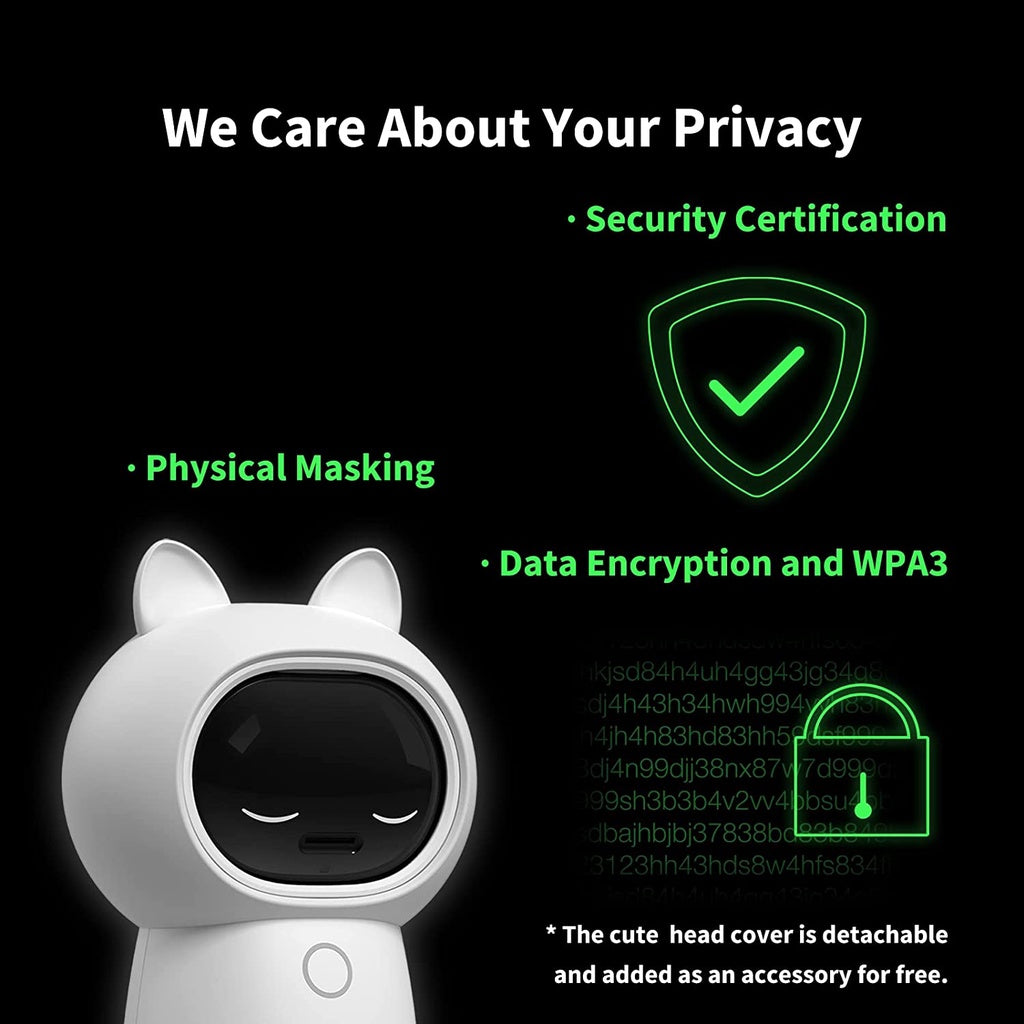 PACKED WITH AI FEATURES YOU DIDN'T KNOW YOU NEED
AI Facial Recognition

Sounds the alarm when an unknown face is detected, switches off to sleep when you return, or helps you cheat during a game of hide-and-seek.

It Likes to Move It, Move It

G3 moves on its own as it tracks a person or a pet. It does it so silently that intruders won't be aware that a camera is following and recording their every movement.

Honey, You're Home!

G3 will greet you with personalised light settings while Alexa plays your welcome home playlists. Make a grand entrance home every time, even if you live alone.
Built-in Zigbee 3.0 Hub

Doubles up as a control center to transform existing IR devices into smart devices for complete home automation.

Your 24/7 Security Guard

Sends you a notification or turns the alarm on when an unknown person arrives at your home while you're out.

Smart Gesture Control

Here comes the fun! Trigger the G3 to take certain actions like turning off the lights or turning on the TV using hand gestures! 👌✌️✋👉
360º Viewing Angle

Remote pan/tilt capability so there's no areas it can't see. Works with Aqara sensors to start recording when triggered.

High 2k Video Quality

Dynamic bit rate technology with 2304 x 1296 pixel sensor that produces crystal clear images even on cruise control.

WPA3 Data Encryption

Data streams from the camera are encrypted to meet security standards by Apple, Google and Amazon.

Face, Human, and Pet Tracking

Import photos to recognise faces. Senses human presence. Stalks your pets if you want it to.

Sound and Motion Detection

Records triggered events from abnormal sounds or unexpected human motions.

All Round Compatibility

Works with Apple Homekit, Alexa, Google Home, Siri, Yandex Alice, IFTTT and more.
FREQUENTLY ASKED QUESTIONS
Where is the best place to install Aqara G3?

It depends on your requirement - what you want to see when you're not there. The G3 is commonly placed facing the doors, entrances and exits, living rooms, kitchens, in a newborn's nursery, stock room, warehouse, or looking over the cashier. G3 can also be installed onto walls and ceilings.
Why do some AI functions disable when gesture recognition is enabled?

Enabling gesture recognition will disable face, human and pet recognition, automations related to Pan/Tilt/Zoom and other AI functions due to computing limitations. The manufacturer recommends disabling gesture recognition to use other AI functions.

Gestures, face, human and pet recognition algorithms rely on image colour information. It is recommended to enable them in the day instead of in night vision mode.
Is there a maximum number of people who can watch the camera's video simultaneously?

We recommend not more than 4 at the same time.
How do I change the camera view after installing it on the ceiling?

Change the view in the app settings. "Settings" - "More Settings" - "Camera Settings" - "Video Settings" - "Installation Methods", select "Place Upside Down".
Does the camera still work if the internet is down?

Remote access functions and viewing via the app won't work but automations continue to work normally.
How does facial recognition work?

Faces (photos) imported to the app are used to detect unfamiliar or marked faces. This sets the condition for automations and alarms triggered by unknown faces opening a door.
How does the IR blaster work?

Add household appliances to be controlled (e.g. TV, air conditioner, curtains, soundbar, etc.) to the app. Once it is on the list of supported devices, you can use the app to remote control the appliances in any part of the room. 

*Applicable for appliances that support IR control only.
Can I remove the cat ears?

Yes, the silicon cat ears are removable.