Regular price
Sale price
$49.90
Unit price
per
Sale
Sold out
Description
A lightweight table lamp you can take with you everywhere.

High quality lighting combined with an elegant yet practical design.

The Yeelight Z1 Pro desk lamp has a built-in rechargeable battery of 2500mAh that will provide up to 40 hours of use without the need for recharging.

Thanks to the wireless power supply, you can take it with you wherever you need it.

The 5-stage brightness scale allows you to adjust the light to your current needs.

With 5 dimming options and 180° adjustable angle, focus on your tasks while protecting your eyes. The brightness of the lamp can be set between 10 and 200 lumens, so it is ideal for various situations.

The color temperature is also adjustable in 5 stages and ranges from 2700K to 5000K. Cool light is beneficial for concentration and learning, and warmer relaxation and mute.

A perfect companion for any desk work or simply to relax.

✅ Simple and clean geometric lines, both value and strength
✅ Light and portable
✅ Long lasting usage of 40 hours per charge
✅ Automatic power off at 48℃ for safer charging
✅ Triple quality adheres to no video flash, avoid eye fatigue, less blue light reduces retinal damage, scientific color temperature is more suitable for reading
✅ Smart and versatile, using multiple scenes, 180° dimming
✅ Representing up to Ra90, restoring the true color of the painting
Specifications

Model: YLDP14YL

​​Dimensions: 13.50 x 13.50 x 35.30 cm

Net Weight: 0.455kg

Colour: White

Rated Input: 5V 1A

Power: 5W

Temperature: 2700K - 5000K

Luminous Flux: 200lm

Color rendering index: Ra90

Warranty: 6 Months Local Manufacturer (Singapore & Malaysia)

*The limited manufacturer warranty is for product faults on parts, etc., not for accidents or misuse by users.

**Please keep all BOXES for the warranty to be valid.
Box content

Package Contents:
1 x Table Lamp, 1 x USB Type-C Cable, 1 x Manual
Product Overview
High quality lamp beads with no strokeflash and blue light reduction.
5 adjustable brightness and colour temperature.
Light weight, foldable and portable.
View full details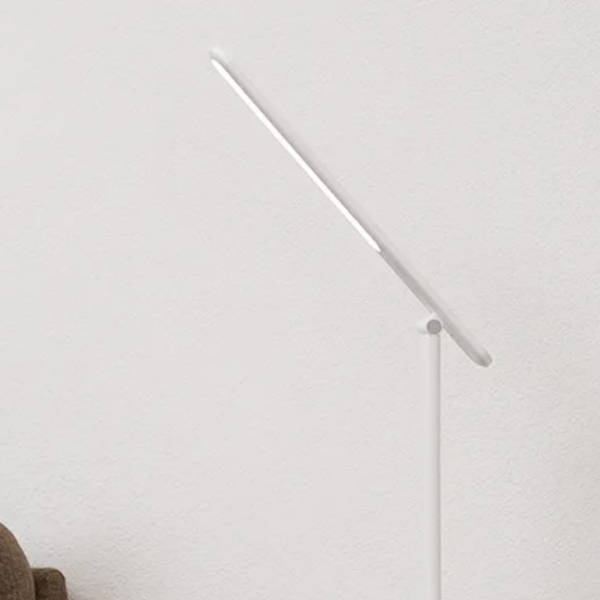 THE LAMP YOU CAN BRING ANYWHERE
5 Dimmable Levels

One-touch to adjust brightness and colour temperature.

Long Battery Life

Lasts up to 40 hours usage in a single charge.

Lightweight and Foldable

Sleek and light with adjustable angle to light up any space.

High Quality Lamp Beads

No glares, flickers and strobeflashes. Reduces blue light to protect your eyes.

High Colour Rendering Index

CRI of Ra90 helps your eyes see in true colours.

Automatic Power Off at 48℃

Built-in NTC temperature monitoring for safer charging.
FREQUENTLY ASKED QUESTIONS
Can I charge this lamp with a power bank?

Yes, this light is chargeable with a type USB-C cable.
Can I charge this lamp with a phone charger?

Yes. We recommend a 5V 2A USB phone charger instead of a 5V 1A charger.
Will the light weaken when it is not fully charged?

No. This light is built with a constant current dimming technology so it does not weaken or flicker with decreasing power
How do I know when the lamp is fully charged?

When the lamp is charging, there's blinking white color  on the button.

When the lamp is fully charged, there's a solid white colour on the button.
Can I use the lamp while its charging?

Yes, but the battery may degrade overtime when using while in charge.
Can I control this lamp with the app?

No, this lamp is not app controlled.