Regular price
Sale price
$119.00
Unit price
per
Sale
Sold out
Description
A mission control centre that lets you operate everything in your home from one place.

From scene creation, appliance automation to voice commands - this powerful hub works quietly in the background to maintain control of your home.

Now you can impress your guests with a lifestyle that even Tony Stark will approve, without breaking the bank!

🏡 Highlights:

•【Ready Stock + 1 Year Warranty】Ship from Singapore

•【Multi-protocol gateway for maximum compatibility】ZigBee 3.0 is coupled with an IR transmitter, Bluetooth Low Energy and Wi-Fi b/g/n.

•【Built-in Speaker】Used as alarm, doorbell, security alerts or configurable ringtones

•【Smart Home Ecosystem & Voice Assistants】Compatible with Apple HomeKit, Google Assistant, Amazon Alexa, and more.

•【Subscription-free security solution】Supports wide range of Aqara sensors such as Door/Window sensor, Motion sensor, Water Leak sensor, etc

•【Built-in IR Controller】Control air conditioners, TV, projector, etc via Aqara Hub M2 built-in IR controller.

•【USB Power】More flexible installation and optional battery backup thanks to Micro-USB 5V 1A power support.

•【Ethernet RJ-45 Port】Supports wired connection via Ethernet RJ-45 for extra stability and lower response time.
Specifications

Model: HM2-G01

Colour: Black

Dimensions: 100 x 100 x 30.75mm

Weight: 135g

Connectivity: 2.4 GHz Wireless, ZigBee 3.0, IR control, IFTTT protocol, Bluetooth LE 5.0, RJ45 ethernet cable port

Power: 5V 1A or 5V 2A Micro USB

Support system: Android 6.0 or iOS 12.0 and above

Warranty: 1-Year Manufacturer Singapore Warranty
Box content

● Aqara M2
● Micro USB power cable
● Power adaptor
● User manual
● HomeKit code
Product Overview
Budget-friendly and easy to use, ideal for smart home beginners.
Works with Apple HomeKit, Alexa, Google Home, Siri, Yeelights, MI Home, Yandex Alisa and more.
Control and automate home security, lighting and IR devices like air conditioners, fans, TVs, etc. on your phone or using your voice.
View full details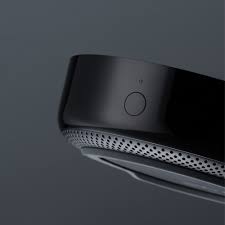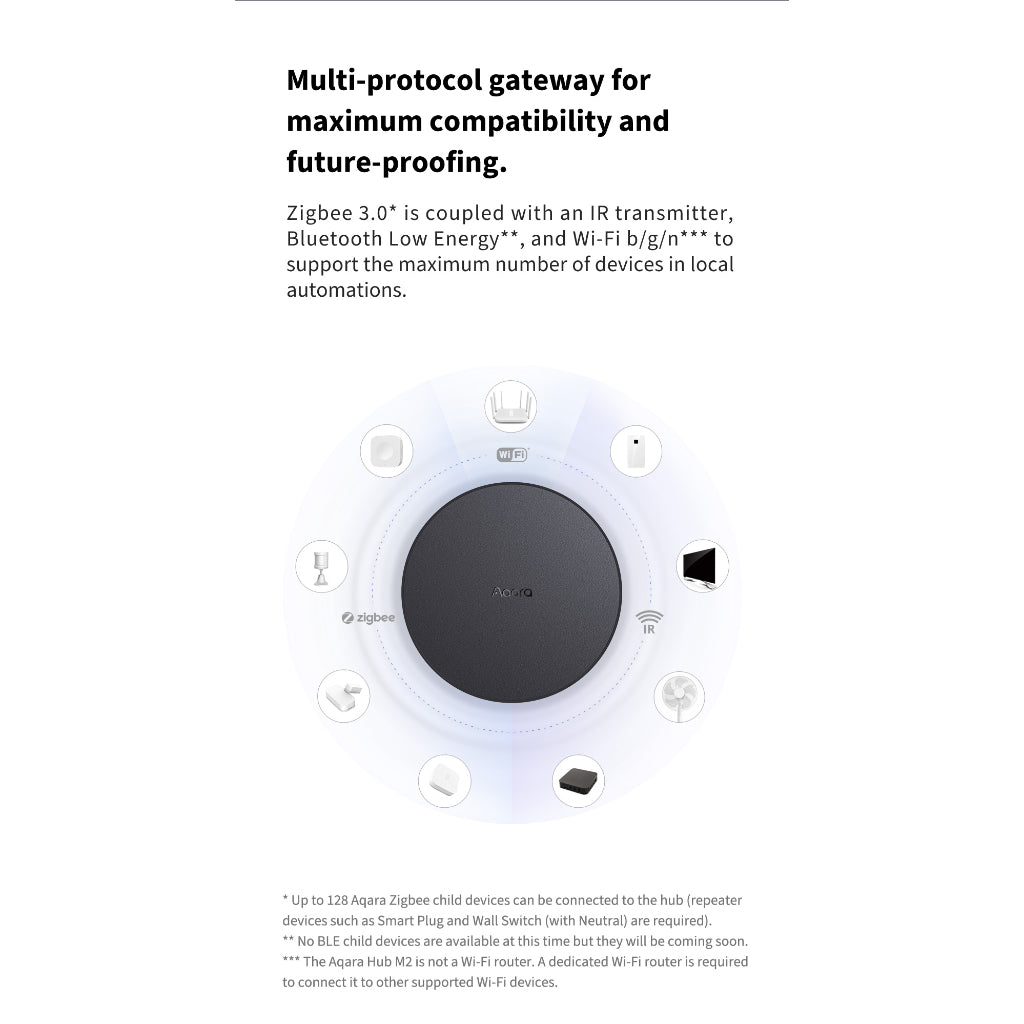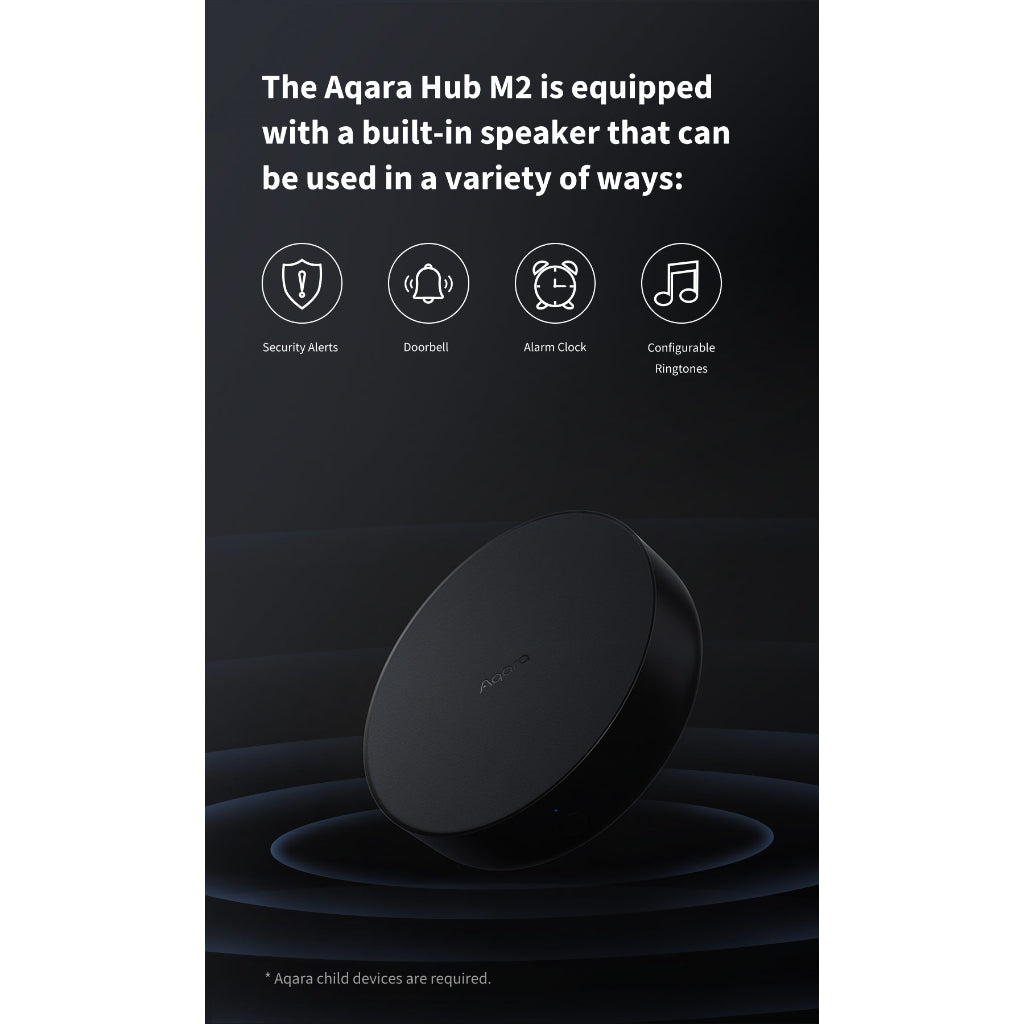 GIVE YOUR HOME THE TONY STARK TREATMENT
A home that fits your lifestyle - not the other way around
Smart Night Lights

Safely guides you to the bathroom or the fridge without waking everyone up.

Wakey Wakey

Set your curtains to let some light in while lights slowly turn on to the tone of a gentle sunrise.

Here's Your Coffee

Your coffee machine automatically brews the most important drink in the day for you.
SET IT UP IN A MATTER OF MINUTES
Step 1:
Connect to Power Source

External Micro USB connector cable to stay out of the way.

Step 2:
Install Homekit or Other Apps

Fully integrated home apps to manage your devices right away.

Step 3:
Customise Your Smart Home

Add and manage IR devices with your preferred home app.
Zigbee 3.0

Radio controls up to 128* Aqara child devices like smart bulbs, switches, and sensors.

360º IR blaster

Control existing IR devices such as fans, air conditioners, TVs using voice and app automations.

All Round Compatibility

Apple HomeKit, Google Assistants, Alexa, Siri, MiHome, Yeelights, IFTTT and more.
FREQUENTLY ASKED QUESTIONS
What does the Aqara M2 Smart Hub actually do?

The Aqara M2 works like a brain for your smart home. It pairs all your preferred devices to your preferred smart home app. Its excellent range means the paired devices stay connected. Then it gets them to work the way you want them to, e.g. giving voice commands to lights, fans, TV, etc. from any part of the room.
Is it true that this hub works with Aqara products only?

That is partly incorrect. Non-Aqara devices can be paired to the hub using Apple Homekit, Google Home, MiHome, more, and IR devices using the Zigbee 3.0 protocol. Light switches, bulbs, sensors and proprietary security devices only work with Aqara Home App. Chat with us and we will be able to guide you on what can be achieved.
Where is the best place to install the Aqara M2 Smart Hub?

It is recommended to install the M2 in the centre of the area where paired devices are. If it is connected via WiFi, it's best to maintain a straight distance of not more than 6m from the router.
Does the hub still work if the internet is down?

Remote access functions via the app won't work but automations continues to work normally.
What is automation?

An automation is when certain action is taken based on the settings you create. Some examples:

Turn off the air conditioner after you leave home
Turn on the entryway lights and fan when you arrive home
What is a scene?

You can create a scene through the Aqara Home app or Apple Homekit and add multiple devices to the scene. An example:

Create a "good night" scene, add "bedroom lights", "living room lights" and "corridor light" to the scene, and set all the switches to turn off after you give the 'good night' command.