Regular price
Sale price
$38.90
Unit price
per
Sale
Sold out
Description
Finally, your answer to be rid of pesky mosquitoes once and for all.

The Yeelight Mosquito Repellant Lamp is an unique simple design, combine the electric mosquito swatter with the base to make a mosquito killer. A lamp that's designed to trap and kill, the swatter also detaches so you can zap the bugs as well.

Comes with front and back light sensors to automatically turn on/off at night/day.

An environmentally-friendly way to reduce mosquitoes and other flying bugs, and safe to use around everyone.

Perfect for homes, balconies, and small enough to travel, fish or camp with.

Auto-on of UV light at night when plugged to a power supply; Built in with light sensor, with front and back sensor.

Features:
✅ Intelligent light sensitivity
✅ Effectively solving the problem of flying insects in the lampshade.
✅ Automatically activate the mosquito trap mode at night and automatically turn off in the morning.
✅ 88.1% High kill rate, Active & Passive 2 modes
✅ Using environmentally-friendly physical electrostatic shock to kill mosquitoes, using 360nm - 400nm wavelength ultraviolet UV light to attract mosquitoes
✅ Energy-saving, Micro USB Fast Charge With a lithium battery (in-built), last for 3-4 hours after a full charge via a Micro USB interface.
✅ Non-Toxic No odor, and Environmental Protection Physical mosquito killing, non-toxic and harmless, no chemical components volatile components, pregnant infants, the elderly can use safely.
✅ Portable to Carry with, Widely Application
This mosquito zapper comes in a practical design, the small dimensions allowing you to carry it anywhere you need it! It can be placed in the bedrooms, study rooms, dining rooms, hotels, etc.
✅ Also, you can use it when camping outside, really a wise choice for your family.
Specifications

Model: YLGJ04YI

​​Dimensions: 177.5x54x330mm

Net Weight: 800g

Colour: White

Application: indoors, outdoors

Material: ABS, metal

Rated input: 5V 1A

Rated power: 0.65W

Wave length: 360nm-400nm

Operating temperature:0℃ ~ 40 ℃

Application area: < 45㎡

Power Supply: USB

Warranty: 2 Year Local Manufacturer (Singapore & Malaysia)

*The limited manufacturer warranty is for products that are faulty upon box opening, not for accidents or misuse of products by users.

**Please keep all BOXES for the warranty to be valid.
Box content

2-in-1 mosquito killer x1
Micro USB charging cable x1
Product Overview
A lamp with detachable swatter to trap and remove mosquitoes.
Front and back intelligent light sensors that auto turns UV light on and off.
Physical mosquito killing by electrostatic shock. Non-toxic, no chemical components.
View full details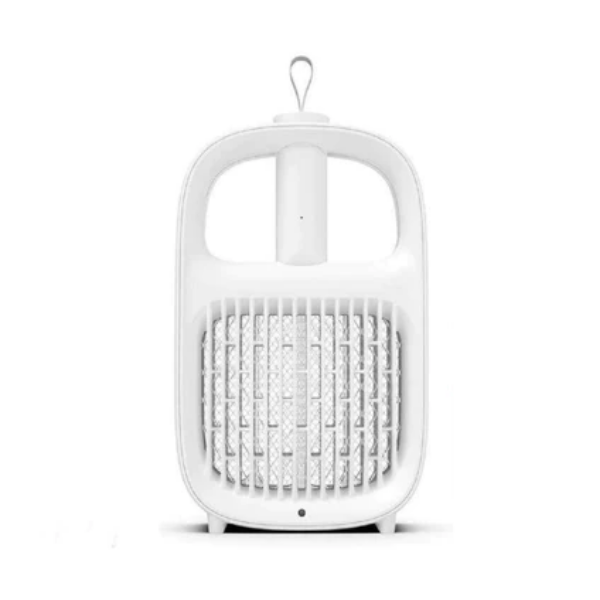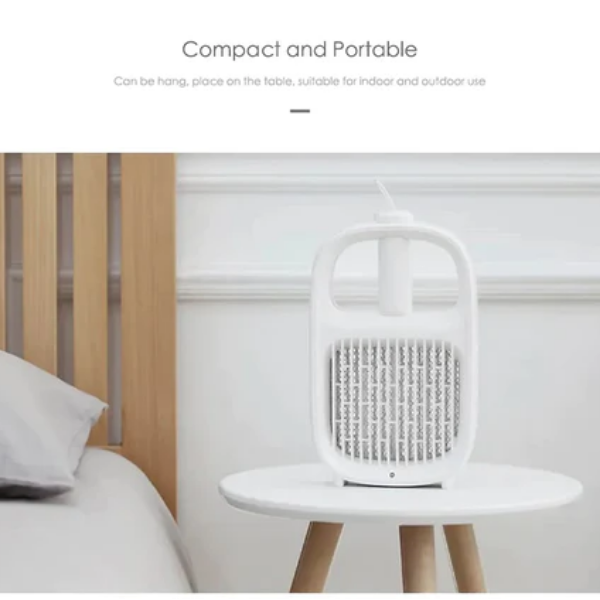 DESIGNED TO BE DEADLY AND EFFECTIVE
2-In-1 Kill Mode

Sensors trigger UV to trap and kill, while the swatter detaches for the other bugs you're going for.

Safe and Non-toxic

Touch-proof base that uses electrostatic shock to kill. Safe to use around the young and elderly.

Light and Compact Design

Easy to carry, space saving, stands vertically and light enough to hang in a camping tent.

No Bugs Can Resist

360nm-400nm UV wavelength that lures flying bugs.

Front and Back Light Sensors

Automatically turns on at night and off in the day.

Energy-Saving

Li-On battery that's USB-C rechargeable with up to 4 hours usage per charge.
FREQUENTLY ASKED QUESTIONS
Can I charge this lamp with a power bank?
Why does the UV light not switch on when it is fully charged?

To turn the UV light on, simply plug the USB charging cable to a charging source. This is to ensure enough power supply for the lamp to last through the night.
Does the lamp work in the daytime?

Stick a sticker or a piece of gaffa tape over the bottom front and back light sensors so you can use it in the day. Do not place it in a very bright spot otherwise the sensors will be triggered and turns the UV off.
What is Active and Passive mode?

Active is when you are using the swatter, passive is when swatter is in the base.
Will there be loud zaps when an insect is caught?

This lamp is designed to work quietly but it also depends on the size of the insects.