Regular price
Sale price
$28.00
Unit price
per
Sale
Sold out
Description
Introducing The Aqara Wireless Mini Switch ~ every lazy dude/gal's favourite tool.

Imagine dozing off in bed while scrolling on your phone, only to have to get up, walk over and turn off the lights…

Don't ruin the sleepy mood!

With your friendly wireless switch on your bedside, you can control almost anything you want to without even moving an inch.

It boasts superb range capability and can even pass through 2 walls.

This is how you truly enjoy comfort.

The Aqara Wireless Mini Switch is essentially a smart button to be used at your whim. Configure and assign the smart button to anything you want convenient control to, and attach the button anywhere. It's at home stuck to the wall, on your bedside table, or even in your pocket.

Once assigned to a smart device – for example, a switch – pressing the smart button will turn that switch on and off. Perfect for turning your bedroom lights off from your bed.

An Aqara Smart Hub, like the Aqara G2H Camera Hub, is required.
To work dependably, the Aqara Wireless Mini Switch needs to be in wireless range of the hub it is connected to.

No wiring required, simply place it anywhere
2-year battery life
smart control with single press, double press or long press
One button to turn on or off all lights.
Specifications

Model: WXKG11LM

Dimensions: 45 × 45 × 12 mm

Weight: 33g

Material: Plastic

Number of controls: 3

Battery life: 2 years

Maximum Transmit Power (Zigbee): 2400 – 2483.5 MHz

Connectivity: 2.4 GHz Wireless, ZigBee 3.0, Wireless control, IFTTT protocol

Operating Temperature: -10℃~+55℃ (14℉~131℉)

Operating Humidity: 0 – 95%RH, non-condensing

Support system: Apple Home app (iOS 10.3 or later), Aqara Home app (Android 5.0 or later, iOS 10.3 or later)

Warranty: 1-Year Manufacturer Singapore
Box content

Aqara Mini Switch
Wall Sticker
Quick Start Guide
Product Overview
No complicated wiring required. Set up takes just 2min with Aqara Hub
Supports up to 50,000 times of physical on/off switching
Connect it to a hub to control various smart accessories such as, smart lights, plugs and more
View full details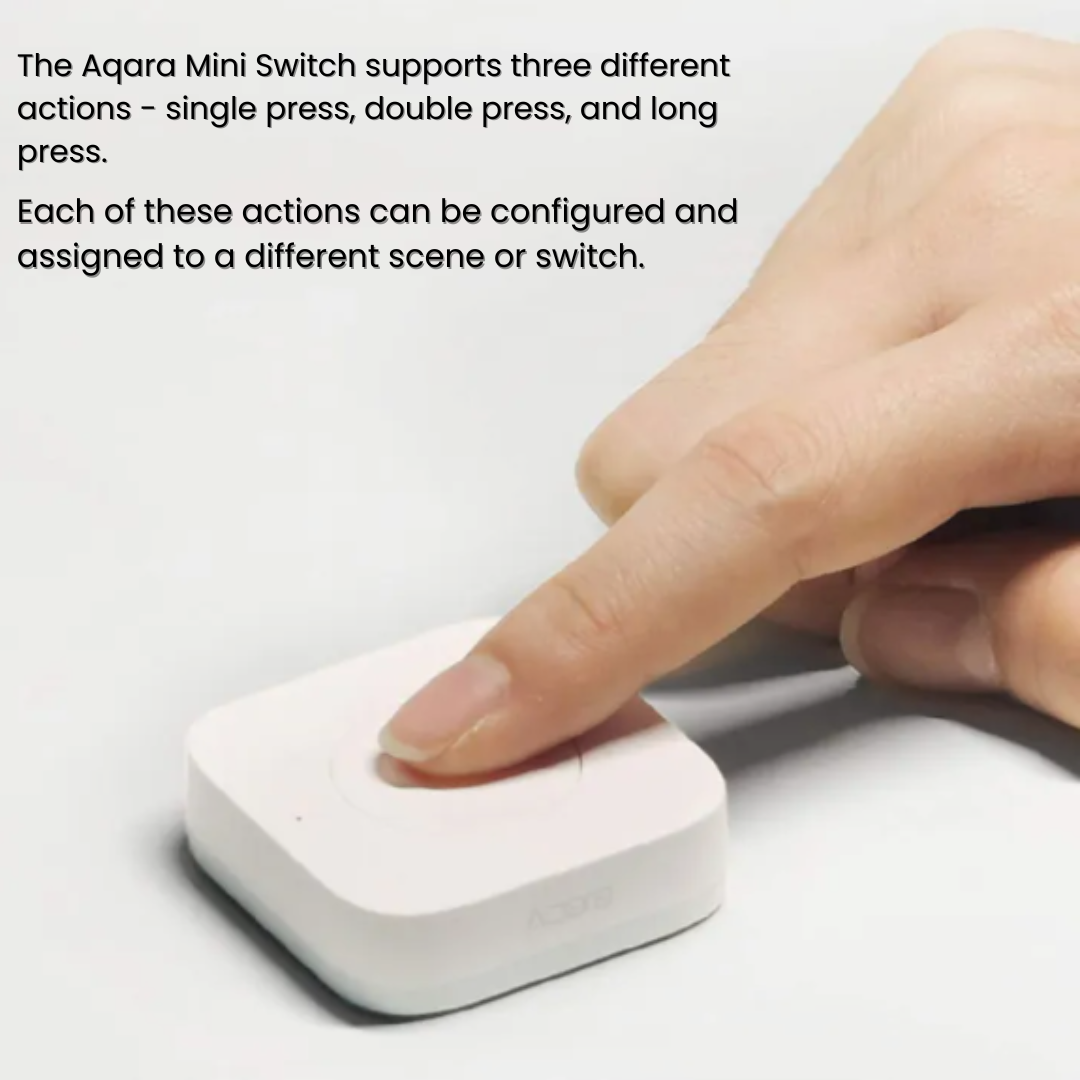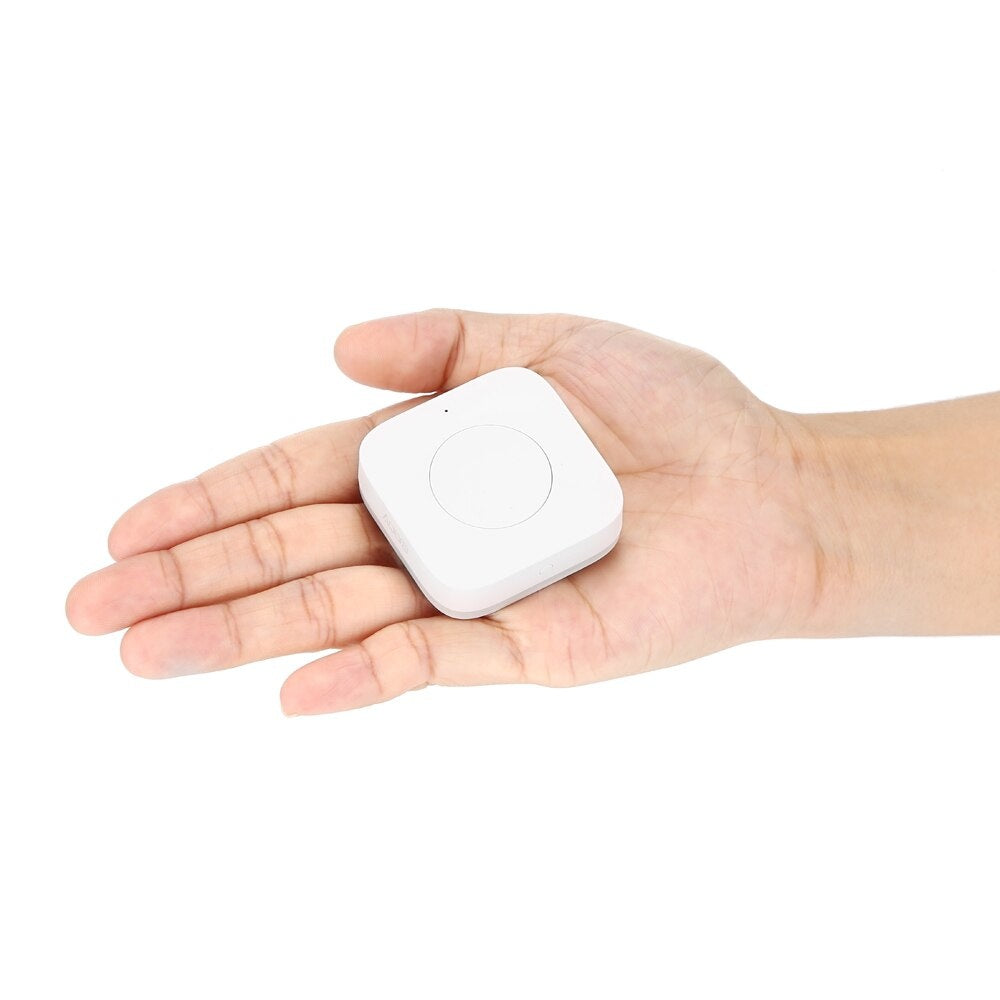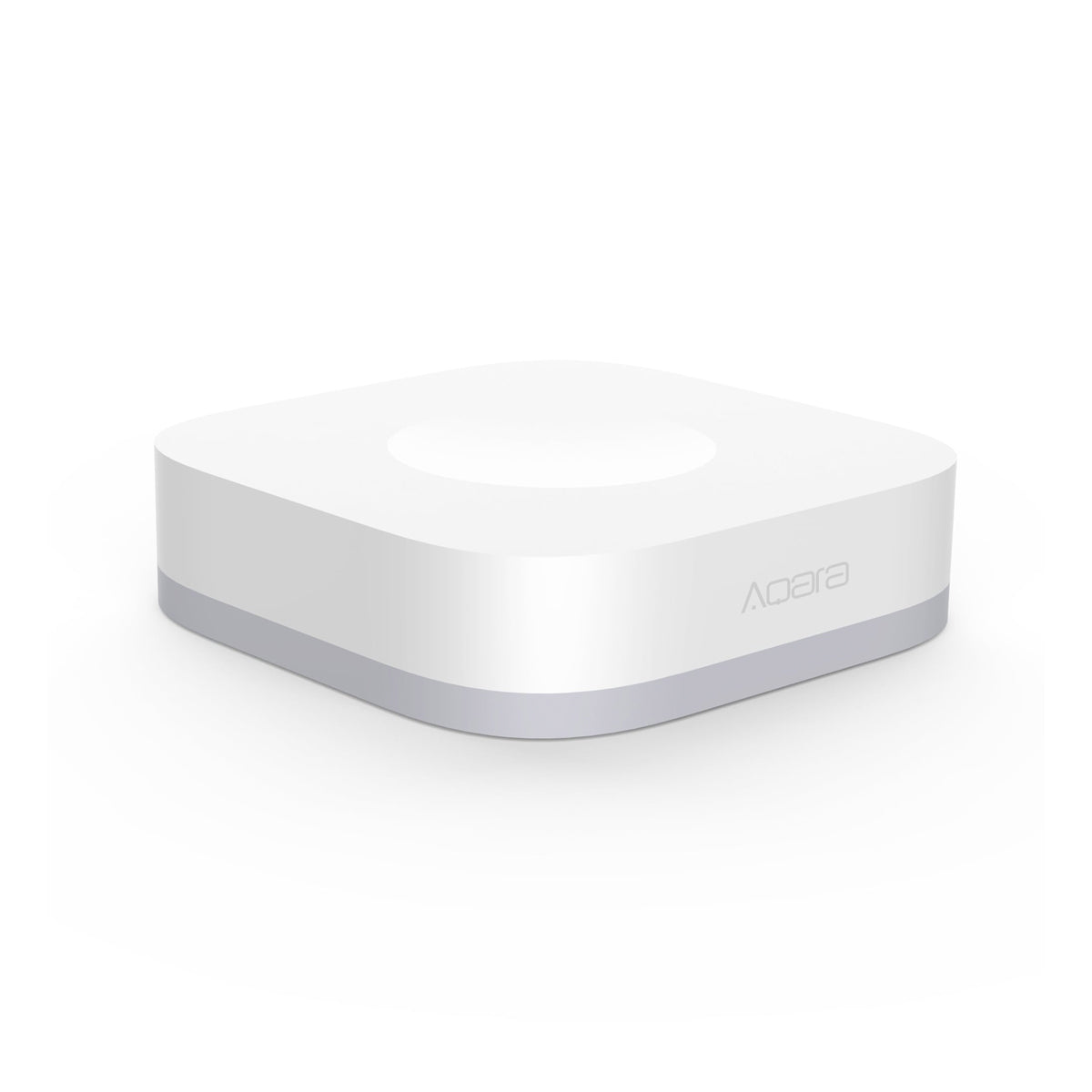 ONE SIMPLE ACTION BY YOU, MULTIPLE PURPOSES IN YOUR HOME
As a Doorbell / Alarm

Customise ringtones so you always know who's at the door. Leaving the house? Turn on alarm mode and get notifications sent to your phone.

As an Emergency Button

In the case of an accidental fall, you can stick a wireless mini switch near to the floor that sounds an alarm to get help.

As a Master Control

Before bed, you need the curtains shut, lights off. But night light, humidifier and alarm on. Press a button. Done.
CONTROL ANY SMART DEVICE IN THE PALM OF YOUR HAND
EVERYTHING AT YOUR FINGERTIPS. LITERALLY.
Wireless Connection With Zigbee 3.0 Hub

Set up home automation when you pair the mini switch with other smart devices in your home.

Your Always-on Aide

Carry the mini switch when moving up and down the stairs or in and out of rooms for quick remote access.

Change Settings Easily

The reset button is on the side of your mini switch. Hold down on it and you're ready for new controls.
FREQUENTLY ASKED QUESTIONS
What actions does this Aqara Wireless Mini Switch support?

It supports 3 actions – single press, double press, and long press. You can control other connected smart devices with different pre-set scenes from your app.
What is the maximum installation distance between the Aqara Wireless Switch and the Hub?

The indoor environment varies, and maximum signal strength between the Hub and the Aqara Wireless Switch is different. But the general rule of thumb is that there should not be more than two walls in between.
Why can't my Aqara Wireless Mini Switch connect?

Possible reasons:

Operation error. Please disconnect the device and add the device according to the app again.
The device is too far apart from the Hub. Please move the device closer to the Hub.
There are too many devices connected to the Hub.
Why is the Aqara Wireless Mini Switch offline?

Possible reasons:

If the device is too far apart from the Hub, please test the distance between the device and the Hub and install the device closer to the Hub.
Low battery or no battery. Please replace the battery.
The device is installed on the surface and there is interference in signal strength. Please avoid sticking on metal surfaces.
How do I know if the Aqara Wireless Switch is working properly?

Poke the reset hole of the Wireless Switch with the eject pin. If the Hub makes voice prompts, "Normal link confirmed", it indicates that the Hub and the Wireless Switch can sync properly. Go to ②; If there is no voice prompt, please move the device closer to the Hub and try again. If there is still no voice prompt, the device might be faulty or have run out of battery. Please refer to the device adding methods to add the device or replace the battery.
Single press/double press/long press the Wireless Switch several times, enter the Home of Wireless Switch in app, refresh the device records (log). If there is a related log, it indicates the device is working properly.
How do I reset the Aqara Wireless Switch? Under what circumstances do I need to reset?

To reset, push in and hold the reset hole on the device for 3 seconds. The indicator will flash 3 times before resetting to factory settings.

If a device needs to be paired with another device hub, it will need to be reset before the new pairing can be complete.