Regular price
Sale price
$26.00
Unit price
per
Sale
Sold out
Description
Remember the scene when Tony Stark (a.k.a Iron Man) walks in and being greeted by Jarvis as everything gets turn on and curtains drawn open to his magnificent sea view. Deep down inside we wish to feel atas like that. Well, with Aqara door and window sensor, you can.

Simply stick it on your main door, so that when you enter, it can activate your G3 hub to play your coolest impression of Jarvis to welcome you home while using its cool Infra-remote to turn on your TV and aircon, then commands the rest of your smart switches to turn on your lights and drawing your curtains.

Or if you don't need such a grand entrance, you can simply stick it to your window to remind you to close it at a specific time everyday when leaving for work. And if you stick it to your bedroom door, it will alert you via notification that someone is nosing around your private space.

Comes with:
✅ Triggers Aqara Hub Alarm and Push Notification
✅ No wires, no concealing
✅ 2-year battery life

Features:
👉🏻【UNAUTHORIZED ENTRY DETECTION】Whenever the door/window opens unexpectedly, the Aqara Door and Window Sensor will send an alert notification to your phone and activate the local alarm on the Aqara Hub.

👉🏻【HOME AUTOMATION】The Aqara Door and Window Sensor can control other Aqara connected devices as the status of the door or window changes.

👉🏻【22MM WIDE GAP ALLOWED】The Aqara Door and Window Sensor works with most types of doors, windows, and other fixtures with similar mechanism, such as drawers, cabinets, and more.

👉🏻【VOICE CONTROL】Compatible with Apple Home Kit, Alexa for a hands-free experience.

Specifications

Model: MCCGQ11LM

Colour: White

Size: 41 × 22 × 11 mm (1.61 × 0.87 × 0.43 in.)

Maximum Detection Distance: 22mm

Connectivity: WiFi

Power Source: Battery

Operating Temperature: -10°C-+45'C (14″F-113″F)

Support system:
*Apple Home app (iOS 10.3 or later),
*Aqara Home app (Android 5.0 or later, iOS 10.3 or later)

Warranty: 1-Year Manufacturer Singapore Warranty

Box content


Sensor Unit x 1
Magnet x 1
Sticker x 2
Quick Start Guide x 1

Product Overview
Real-time updates on window/door status
No installation required. Just stick it on and you're all set up.
Compatible with Apple HomeKit, Google Home, Amazon Alexa and Mi Home
View full details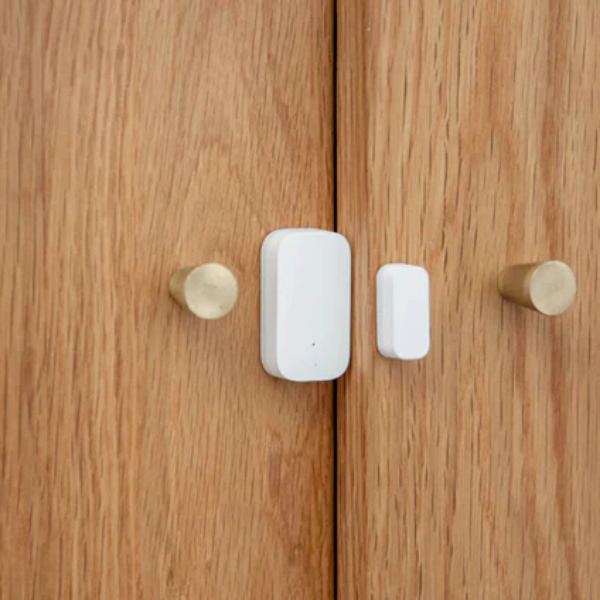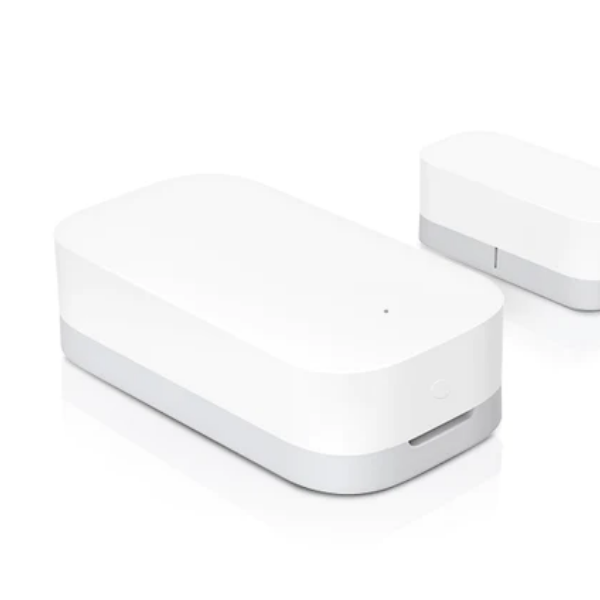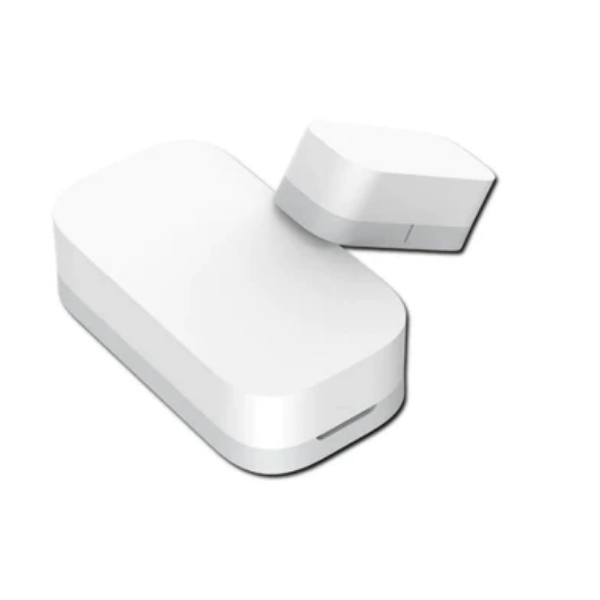 CONVENIENCE AND SECURITY, ALL IN ONE SENSOR.
On Front Doors

Turn on and off lights based on where you are.

On Windows

No more stressing about rain getting in again.

On Fridge Doors

Don't let the cold air go to waste.
MULTIPLE WAYS
TO COME AND GO
FREQUENTLY ASKED QUESTIONS
How to install the Aqara Door and Window Sensor? Can I change the position of the sensor unit and the magnet unit?

Line up the primary sensor and the magnet according to the mounting line as shown in the user manual. Attach the primary sensor to the fixed surface and the magnet to the surface that will be opened;
The distance between the primary sensor and the magnet should be less than 22mm;
The exact position can vary, but ensure that the primary sensor and the magnet are installed in alignment.
Because of the complex nature of an indoor environment, adjusting the position of the sensor hub with the Door and Window Sensor can improve the overall result.
Be sure to avoid installing sensors on metal surfaces because of the adverse effect this can have on the signal.
Can the Aqara Vibration Sensor be used independently? 

No, the Aqara Door and Window Sensor must work with a Hub.
What is the effective range between the Hub and the Aqara Door and Window Sensor?

In a complex indoor environment, This distance will need to be reduced if there is a wall between them to ensure good connectivity. But in general, the effective range is 22mm.
What can the sensor do?

Aqara Door and Window Sensor can be installed on the door or window to detect door and window status.
Works with other smart devices. If it detects that door/window opens or closes, it triggers other devices to turn on or off home appliances or to take other actions.
What if I want to change its location? Is it easy to reset?

Yes, absolutely.

Push in and hold the reset hole on the device for 3 seconds. The indicator will flash 3 times before resetting to factory settings.
If a sensor needs to be paired with another sensor hub, it will need to be reset before the new pairing will succeed.

That's easy!
How to determine if the desired location is suitable for installation?

Turn the magnet 90 degrees. It is better to install the sensor on a fixed door frame. Attaching the small magnet to the door is the best way to protect the sensor. 

Although the primary Door and Window Sensor should be less than 22mm from the magnet, they should not be installed too close together to avoid contact and damage that may occur.